Results of Assessment Center and a video presenting candidate in common with his CV before the first round of the interview in your company? Everything online in organized and shared recruitment platform with your colleagues and for free? Yes, it is possible…
I am glad that after a few months of work I can introduce you to a new concept of digitalized recruitment. Due to a cloud platform which is available from the web interface and of any device can FENIX with customers and candidates share recruitment processes and communicate in real-time. Recruitment platform is an obvious part of FENIX recruitment services so there are no extra charges.
The platform allows that you can invite all of the candidates who fulfil all your requirement to the first interview. Not only skills as education and practice but also personal prerequisites. Before inviting a candidate for the first time you have results and video presentation from Assessment centre so that is the reason why it should not be trial-and-error procedure but meeting with the best candidates of them all.
In view of the fact that the domain of FENIX SEARCH is cast into the top managerial, highly specialized and "hard-to-fill" positions. I need to say that this platform is "only" online tool for facilitation of recruitment process. The basis of quality work FENIX SEARCH is still knowledge of sources and tools for searching suitable candidates in the right places, understanding the needs of the company and personal interviews with candidates. Without FENIX´s personal quality invention would be online platform only ineffective tool.
WHAT THE PLATFORM ALLOWS?
It is a CRM cloud system in which has candidate and customer access through the web interface of any device
It allows saving information about candidates and selection procedure in one place online
It provides transparency and unity of candidate evaluation
It allows clear communication among agency, company and candidate
Access is assigned by password to people that are interested in the process, for example, HR manager, future supervisor, owner and so on …
Everyone has the opportunity to rate candidate, express and comment on condition and process from anywhere
WHAT IS POSSIBLE TO SHARE IN THIS PLATFORM AND WHICH INFORMATION CAN YOU FIND THERE?
CV with photo, supplementary documents like a cover letter, references, an example of projects etc.
Professional questionnaire – candidates´ authentic answers regarding following experiences and competencies
Results Assessment centre – evaluation of the level of professions and personalities considering competencies that are preferred by you. In the platform is saved document with a graphic and verbal representation of results
Recording of short video chat recruiter with a candidate – circa 4 minutes long video in which candidate introduces himself and then responds to 4 questions about his practice, experiences, the imagination of his wage and so on. That gives you the opportunity to get to know the candidate before you invite him to the interview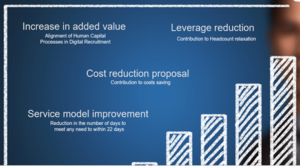 WHAT IS THE BENEFIT FOR THE CUSTOMER?
You save time and money – you do not have to wait until a colleague or supervisor comes from another country to visit candidate
Clarity of process and information in one place for all that are involved anywhere in the world
All of the candidates are transparently evaluated according to the same conditions
Enough relevant information for the better decision which candidates invite to the interview and make no mistake
No fees, usage of the platform is an obvious part of the recruitment services from FENIX SEARCH
I am looking forward to seeing that this new tool make our conversation better, easier, save our time and effort.
If you are interested in non-binding demo platform, please do not hesitate to contact me.
Thank you and I look forward to cooperating with you. Lucie Sedláčková